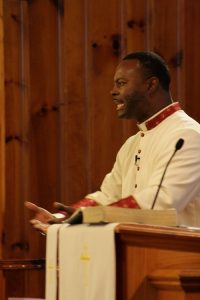 John L. Roberts was born in Washington, D.C., on December 24, 1964 to John L. Mills and Lumisha E. Roberts Jerry.  John is a native of Southeast Washington D.C.  After graduating from Ballou High School in 1982, he enlisted into the United States Army.  He is a graduate of Liberty University with a Bachelor of Science in Religion, a Master of Arts in Religion and a Master of Divinity from Liberty Baptist Theological Seminary specializing in Church Ministries.
John accepted the Lord at The New Macedonia Baptist Church, March 6, 1996. His favorite scripture is 2 Cor. 5:17, "Therefore if any man be in Christ, he is a new creature: old things are passed away; behold, all things are become new." While under the leadership of the late Dr. Reverend Robert L. Walls, he served as a layman.  John was selected to become a Deacon; however, he was called to duty in the South Republic of Korea.
John is a retired United States Army Master Sergeant with 22 years of service. During his tour of duty in Korea, he attended Camp Red Cloud Church of God in Christ under the guidance of Chaplin Richardson and Minister George Horne. It was in Korea, April 1998, when he accepted his call to the ministry. He has been faithful and devoted to accomplishing his appointed purpose in the Master's work. Since committing his life to Christ, John has had the desire to teach and hear the word of God, Matt. 5: 6 says, "blessed are they which hunger and thirst after righteousness: for they shall be filled." During his tenure at Camp Red Cloud Church of God and Christ (C.O.G.I.C), he worked diligently as Church Secretary, Choir Member and Sunday School Teacher.
Upon his return from South Korea April 8, 1999, John joined New Life Restoration Bible Church in Stafford, VA under the leadership of Pastor W. Neal Lockhart. Serving under Pastor Lockhart, John continued his church work as Sunday School Superintendent and Bible Study Teacher. Through his application of the word, faithfulness, diligence and commitment to the Lord's work and will, he became licensed and ordained by Pastor Lockhart as a Minister of the Gospel on October 24, 1999.
John joined Word of Life Fellowship Center August 5, 2001 from its inception. He served faithfully under the guidance and leadership of Pastor Sem K. Charles. On April 8, 2004, Pastor Charles ordained John as an Elder in the ministry. John held several positions in the church to include Assistant Pastor, Sunday School Superintendent, and New Disciple Trainer. He is a compassionate and practical teacher of the scriptures who keeps the message real and applicable in today's changing society. It is his desire to preach and teach the gospel so that unbelievers will give their lives to Jesus Christ (John 3:16, Rom. 10:9), and believers will apply the "Word" to their life.
God spoke to John and instructed him to relocate to Columbia, SC. In June 2004, John joined Fort Clark Baptist Church under the leadership of Bishop Dr. William H. Woodard, Jr. Under the leadership of Bishop Woodard, John was ordained as a Reverend on January 25, 2009. He is currently the pastor of Fort Clark Baptist Church.
John is the husband of the lovely Willette P. Brunson of Silver S.C.; they have been united in marriage for 35 years.  He is the proud father of 2 children: Kiara and Brooke. And the proud father-in-law of Jalen Pauling, and beautiful granddaughter Leighton Drew Pauling. And the proud father-in- law of Jordan Addison.
Pastor Robert's motto: Neighbor I love you and there is nothing you can do about it. It is not how you love me that is going to affect my life, but how I love you that is going to affect my life. Living is loving and loving is Christ, Amen!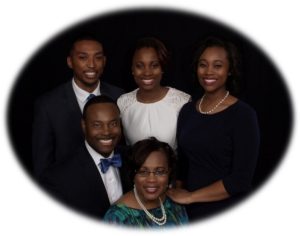 Fort Clark Baptist Church 421 Veterans Row Elgin, South Carolina 29045
Phone: 803-438-5071
Email Address: fcbc4g@att.net